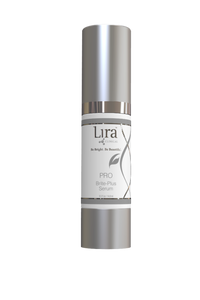 Clinically brighten skin tone while preventing future dark spots from aging, acne, and environmental damage with Lira Clinical's powerful new PRO Brite-Plus Serum. This advanced, innovative serum, formulated with stabilized vitamin C, Tranexamic Acid, Ferulic Acid, and exclusive MASQ-tech™ flips the switch on dull, fatigued skin to defy aging, minimize pore appearance, and naturally hydrate while supporting healthy skin barrier function.
Skin types: all skin types, hyperpigmentation, melasma
KEY BENEFITS
• Manages pigmentation distribution throughout the melanin production process; from start to finish.
• Minimizes pore appearance while preventing trauma hyperpigmentation formation.
• Delivers potent antioxidant and brightening properties into the skin without instigating inflammation or irritation.
• Brightens dull, fatigued skin renewing a healthy, youthful texture and tone.
• Encourages natural hydration while supporting healthy skin barrier function.
Directions:
Clean face with Lira Cleansers of your choice, remove with room temperature water, pat dry. Apply 1-2 pumps of Brite Serum in the morning, follow with moisturizer and SPF. 
Ideal to partner Brite Serum with Pro Lite Serum at night. Brite serum will target exisiting stubborn pigment, including melasma. Pro Lite Serum will protect and prevent future pigment from occurring.