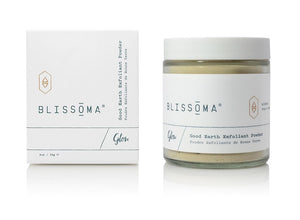 Exfoliating is essential for your skincare treatment.  It helps to unclog pores, remove dull, dead skin cells and deep cleaning the skin. However, scrubbing your face like it's the bathroom floor is not ideal. Facial skin is tender and easily abraded, and physical exfoliants can often be too aggressive, leaving micro-tears in the skin. Exfoliating your face is something to be done delicately and by the right ingredients.  

For all skin types
Remove makeup and moisten the skin.  Place 1/2 tsp of powder in your palm.  Wet it (with fresh cleanser or water) and mix with fingers to create a paste. Apply to damp skin, massage the paste in circular motions to face and neck for 2-3 minutes using gentle pressure, avoiding eye area. Remove with warm water, pat dry.  Moisturize to finish.
*Turmeric can stain towels use with caution**
INGREDIENTS
Avena Sativa* (oat) Kernal powder, Cocos nucifera* endosperm (coconut water), Papain, Ascorbic Acid, Acacia Senegal* (Acacia Gum), Bentonite, Diatomaceous Earth, Cocos nucifera* (coconut) fruit powder, Oryza sativa* (brown rice), Panax ginseng extract, Coffea Arabica (green coffee) extract, Astragalus membranaceus* root, Olea europaea* (olive) leaf, Curcuma longa* (turmeric) root, Maltodextrin

I love turmeric, but. . .
I love Blissoma products - Pure, Lift, Smooth A+, Peace, Awake - but this is a bust for me. The smell is bad, the grit is too large and rough. I have a pineapple enzyme- based exfoliant with no coarse abrasives at all and it works way better than this. I will use up the sample size I ordered - on my feet, I think.
Perfect for sensitive skin
I have always avoided exfoliants because my skin turns red if you look at it funny. This product was recommended to me by Flourish Day Spa, and I love it! It's a soft gritty feeling, if that makes sense. It's just the right amount of texture for my skin. Plus I love turmeric, it's so good for you! I am now a beliver of exfoliants.
Exactly! Not all exfoliants are created equal and Blissoma's Glow powder is perfect for those of us with sensitive and reactive skin. I am so happy that you are liking your new products.