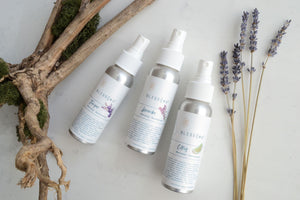 Safe and effective natural deodorant with all day odor protection. Non aluminum, no antiperspirant ingredients, no baking soda. Our sprays are effective at preventing odor, with absolutely no baking soda in our sprays.  That means no skin irritation from Ph changes.  You're going to love it!
Applied to clean skin our multi-pronged formula works to control both the growth of odor causing bacteria on skin and also prevents your sweat from being broken down by those bacteria. Your sweat itself actually doesn't stink, it's the breakdown of sweat that is the problem. Triethyl Citrate works by inhibiting the enzymatic breakdown of sweat into parts that have an odor.  Silver citrate now complements the recipe to keep underarms clean and fresh with the power of silver ions.  Zinc Ricinoleate joins this power trio to surround and encapsulate odor molecules.  It's going to be really hard for smell to get past our toxin free deodorant team.
Because stink is a tough problem for a lot of people we also included many other ingredients to combat odor. Astringent Organic Witch Hazel, Fennel, and Eleuthero Root tone pores while Milk Thistle seed works synergistically with the natural detoxing function of the underarm area. A little Organic Castor Oil and Jojoba oils condition sensitive skin and leave you feeling smooth while Organic Licorice Root and Calendula extracts calm and soothe. 
 Our essential oil combinations all smell fantastic and add to the deodorizing activity of the formula. Three options are available in fresh blends themed on Lavender, Juniper and Citrus.
Newly improved strong odor protection, pleasant aroma, can be used after shaving, no white, oily or dusty residue on skin or clothing and great for men, women and teens.
DIRECTIONS

Spray 2 times under arms after bathing, or as needed to refresh during the day. Allow to dry before dressing.
Each 2.5 oz bottle sprays over 400 times.
INGREDIENTS
CITRUS MADE OF:
Ingredients: Aqueous Infusion of Silybum marianum* (milk thistle) seed, Foeniculum vulgare* (fennel) seed, and Eleuthercoccus senticosus* (eleuthero) root, Water, Hamamelis virginiana (witch hazel), Triethyl Citrate, Ricinus communis (Castor) Oil*, Zinc Ricinoleate, Extracts of Glycyrrhiza glabra* (licorice) root and Calendula officinalis* flower, Glycolic Acid, Simmondsia chinensis (jojoba) Oil*, Populus Tremuloides (Aspen) Bark Extract, Cetearyl Alcohol and Cetearyl Glucoside, Silver Citrate and Citric Acid, Glyceryl Caprylate, Xanthan Gum, Essential oils of Citrus reticulata (mandarin), Litsea cubeba, Citrus bergamia (bergamot) FCF, Citrus aurantifolia (lime), Boswellia carterii (frankincense), and Cedrus atlantica (cedarwood) essential oils in this product contain: linalool**, limonene**, citronellol**
*from Certified Organic Agriculture
**natural components of essential oils
JUNIPER MADE OF:
Ingredients: Aqueous Infusion of Silybum marianum* (milk thistle) seed, Foeniculum vulgare* (fennel) seed, and Eleuthercoccus senticosus* (eleuthero) root, Water, Hamamelis virginiana (witch hazel), Triethyl Citrate, Ricinus communis (Castor) Oil*, Zinc Ricinoleate, Extracts of Glycyrrhiza glabra* (licorice) root and Calendula officinalis* flower, Glycolic Acid, Simmondsia chinensis (jojoba) Oil*, Populus Tremuloides (Aspen) Bark Extract, Cetearyl Alcohol and Cetearyl Glucoside, Silver Citrate and Citric Acid, Glyceryl Caprylate, Xanthan Gum, Essential oils of Cedrus atlantica (cedarwood), Juniperus communis (juniper), Citrus reticulata (mandarin), Cymbopogon martinii (palmarosa), Litsea cubeba, Pogostemon cablin (patchouli), and Elettaria cardamomum (cardamom) essential oils in this product contain: limonene**, linalool**, citronellol**, geraniol**
*from Certified Organic Agriculture
**natural components of essential oils
LAVENDER MADE OF:
Ingredients: Aqueous Infusion of Silybum marianum* (milk thistle) seed, Foeniculum vulgare* (fennel) seed, and Eleuthercoccus senticosus* (eleuthero) root, Water, Hamamelis virginiana (witch hazel), Triethyl Citrate, Ricinus communis (Castor) Oil*, Zinc Ricinoleate, Extracts of Glycyrrhiza glabra* (licorice) root and Calendula officinalis* flower, Glycolic Acid, Simmondsia chinensis (jojoba) Oil*, Populus Tremuloides (Aspen) Bark Extract, Cetearyl Alcohol and Cetearyl Glucoside, Silver Citrate and Citric Acid, Glyceryl Caprylate, Xanthan Gum, Essential oils of Lavendula angustifolia, Citrus reticulata (mandarin), Pogostemon cablin (patchouli), Coriandrum sativum (coriander), Cedrus atlantica (cedarwood) essential oils in this product contain: linalool**, limonene**, citronellol**
*from Certified Organic Agriculture
**natural components of essential oils