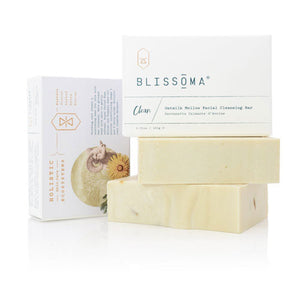 Clean Oatmilk Mellow facial bar harnesses the calming power of oats to make a fabulous cleanser that is mild enough for the whole family.
Our facial bars are no average soaps. Most bargain body soaps you'll find on the shelf at the store are totally unsuitable for use on delicate facial skin. Our bar is carefully balanced with richer oils like Organic Sunflower seed oil, a hefty helping of Organic Shea Butter, Organic Castor oil, and enriched with natural, unrefined Organic Pumpkin Seed oil and Cocoa Butter. A mild Lavender essential oil blend creates a soothing scent for adults and children alike.
We make our own Organic Oatmilk for the base of this wonderful bar. Organic oats are soaked to extract natural Beta-glucan which is a soluble fiber, and one of the key components that can reduce the appearance of redness in the skin. Beta-glucan has also been studied recently and proven to improve the youthful appearance of skin.
Organic Pumpkin seed oil, the key nutrient oil in this bar is rich in omega 3 and 6 fatty acids and naturally occurring zinc.
We've made this recipe perfect for facial washing but you can also use this bar for the rest of your body, especially if you have sensitive skin, patchiness or roughness. We've been told by enthusiastic men that our blend makes the ideal shaving bar as well. Your skin will be left soft, silky, touchable, and healthy.
All Skin types
AM/PM use. Moisten face and cleansing bar. Massage on face gently to remove daily impurities. Remove with warm water and pat dry. Tone and moisturize. Can be used on body as well.
INGREDIENTS
Sodium Olivate*, Avena Sativa (oat) Kernal Milk*, Sodium Cocoate*, Sodium Sunflower Seedate*, Sodium Shea Butterate*, Sodium Pumpkin Seedate*, Sodium Castorate*, Sodium Cocoa Butterate* (natural saponified oils of organic olive, coconut, sunflower, shea butter, pumpkin seed, castor, and cocoa butter with retained glycerin), Essential oils of Lavandula angustifolia, Mentha piperita (peppermint), and Vetiveria zizanoides (vetiver) root, Tocopherol (vitamin E), Titanium Dioxide (natural mineral pigment), Lavandula angustifolia flowers* essential oils in this product contain: linalool**